Avoid Plumbing Disasters with These Fall Plumbing Tips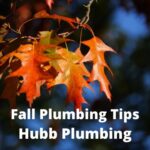 The fall in north Georgia can bring to mind a lot of images that we are fond of. Colorful leaves, warm apple cider, and rooting on your favorite football team field are among the few that come to us at Hubb Plumbing. However, another important thing to remember is the rapid cooling temperatures that take place in the area when winter comes along. This means that it is important to make the appropriate house adjustments so your home can make it through the winter safely. Here are a few plumbing tips that can help you prepare for the winter weather.
Drain you water heater and clean any debris you find
These shorten the lifespan of the heater and hurt its heating efficiency. Drain by connecting a hose to the faucet and running it to a nearby drain.
Disconnect your outside hose
If there is any water that is still leftover from the last use, it might freeze. This will cause the water to freeze and expand, potentially damaging connected faucets and pipes.
Take a look at outside faucets
Make sure all of your outside fixtures are shut off and completely drained. Double check to ensure no faucets are dripping or leaking. If so, you should contact us or make the repairs yourself before the cold temperatures roll around.
Follow these plumbing tips during the fall before the winter hits and you'll be enjoying well functioning plumbing in your home. Since 1987, Hubb Plumbing has provided and continues to provide the best plumbing services for Loganville, Grayson, Lawrenceville, Snellville and the greater Gwinnett County region.