At Hubb Plumbing, we're always ready to tackle your most demanding plumbing situations. But, if you practice some regular "plumbing maintenance", you'll be able to keep your drains clear, and keep serious plumbing catastrophes at bay.
Simple Tips to Keep Your Drains Clear
After-Dinner Rinse – Freshen up your sinks once a week with this easy (and inexpensive) drain rinse. First, dump one half cup of baking soda down the drain. Follow that with a half cup of vinegar. Wait 30 minutes and then chase that with some boiling water. This helps prevent build-up of grease and hard water deposits and eliminates odors!
Heat Relaxer – Even if you are careful to keep excess grease out of the sink, sometimes the build-up can be too much. If grease is the culprit to a clog, try putting a heating pad around the drain trap (you could also use a hair-dryer if you are patient) until the pipe gets hot. That should loosen things up!
Sink Suction – Did you know you can use your plunger for more than the toilet emergencies? (Although, for this trick, you may want a separate plunger!) If your sink is draining slowly, just fill it halfway with hot water.  Place a wet rag into the overflow hole, which will strengthen the force of the plunger. Open the stopper and plunge away.
Bottom's Up – A weekly drain clearing in your bathtub is super simple. Just fill your tub up with hot water and then unscrew the drain stopper. The force of the water should flush the debris out of the pipes. (You could also use the vinegar trick with this one.)
Routine Check-Up – Although most routine maintenance can be DIY, we also recommend that you invite us out for a check-up once in a while. We'll check for potential leaks, water pressure issues, drips and other problems that could cost you now and later. A quick visit here and there could help prevent a huge blowout!
For Serious Problems, We're Available When You Need Us!
Don't let clogged drains get you down. Contact Hubb Plumbing! Since 1987, Hubb Plumbing continues to be the first plumber to call in Snellville, Grayson, Loganville and Lawrenceville GA. Follow these tips to keep your drains clear, but remember to call us for more serious trouble!
Call Hubb Plumbing Today – 404-925-4675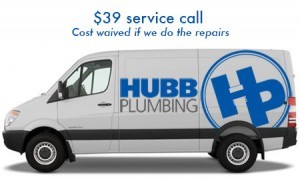 Simple Plumbing Tips from Hubb