Is One Better Than the Other?
Copper pipe and PEX are two of the most common materials used for pipes in your plumbing. You may have heard these names before, but do you know which one you should use for a given project? At Hubb Plumbing, we want you to be up-to-date about the differences between copper pipe vs PEX.
PEX Pipe
PEX is a piping material that has become more popular in modern plumbing projects, home renovations and new home construction. The material is more flexible than copper or iron, which can make installation easier.
And for projects that require water lines to fit into tight spaces, PEX can be the best option available. PEX is also often faster to install and less costly in price and installation labor versus other rigid materials.
Copper Pipe
Copper piping is commonly used and is the standard requirement for plumbing hot water heaters. PEX cannot be directly conected to a hot water heater. And when it's important that the finished product look nice in a room, copper is the material of choice for "plumbing purists." This is often the case in boiler rooms, sink cabinets, or other spaces where the copper pipe will be surface mounted and visible to the naked eye.
However, copper is expensive in material cost and installation labor. This can result in expensive repairs if your pipes are difficult to reach. Despite this drawback, copper is a very durable material.
Copper Pipe vs PEX? Ask Hubb Plumbing
Not sure which pipe to use? Ask Hubb! Give your home the professional and courteous plumbing service it requires. No job is too big or too small. Our mission is to provide the best plumbing service at fair pricing and to leave you with a great sense of customer satisfaction. We have been and continue to be referred by generations of local Snellville families. And because we know how valuable your recommendation is for our success, we sincerely honor your trust.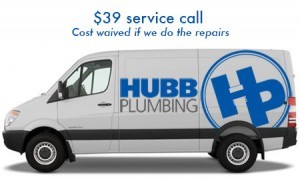 When the Plumbing Needs to Work the First Time