With cold weather just around the corner, Hubb Plumbing of Snellville would like to offer you a few plumbing tips for the season. Winter weather not only takes a toll on your body but your pipes as well. And the best way to avoid a disaster is to be prepared. Take preemptive steps now and learn how to keep pipes from freezing in winter!
Follow These Simple Steps
Tip # 1. The pipes that are most likely to freeze are the ones that are in unheated areas of your home, like the basement, crawlspace, and garage. Before cold weather arrives, make sure that your pipes are properly insulated. Pipe insulation is available at the major home centers and is relatively easy to install. Also at risk are outdoor hose bibs, swimming pool lines, and sprinkler lines.
Tip # 2. During extreme weather conditions it is best to keep the thermostat set at the same temperature during the day and at night. If you are traveling and will be away, it is best to leave the thermostat set at no lower than 55° F.
Tip # 3. Keep your water running. We suggest that you let the water trickle from a faucet on an outside wall. By allowing the water to drip, this will prevent water from being stagnant inside the pipes and freezing.
Tip # 4. If you believe that you have frozen pipes, shut off the main water supply and give us a call immediately! A good clue is when you turn on a faucet and no water comes out!
We're Available When You Need Us!
If you learn how to keep pipes from freezing in winter, you may not need to call us. But when you do need an expert, even during the holidays, contact Hubb Plumbing! Since 1987, Hubb Plumbing has provided and continues to provide the best plumbing services for Loganville, Grayson, and Snellville GA.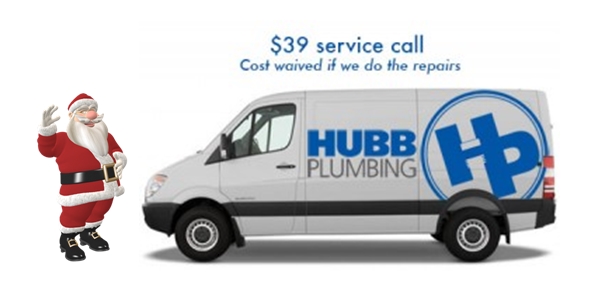 Wishing You a Happy Holiday Season