Amaze Your Friends with Great Plumbing Trivia
On those occasions where you need to impress your friends and family with great plumbing trivia and facts, be sure to share these bits of knowledge about the ever-useful kitchen garbage disposal!
Kitchen garbage disposal units reduce food waste:
Did you know that food waste is the largest type of waste entering landfills, and nearly 30-40% of the U.S. food supply is thrown in the trash each year? The installation of a garbage disposal unit in your home will help to reduce that amount.
Garbage disposal units reduce rodent problems:
Using a garbage disposal instead of throwing food in the trash will significantly help to reduce the possibility of attracting rodents and other pests. Keep rats, mice, and other unwanted animals from loitering and breeding around garbage cans and local landfills.

Nearly 49% of U.S. homes do not have a garbage disposal:
If you currently don't have a garbage disposal unit, give us a call at Hubb. We can get you up and running in no time. You'll be saving the environment and keeping pests at bay in no time at all!
For Maintenance Free Use, Follow This Tip
While the kitchen disposal is a useful tool in the kitchen, it's not meant to solve all your problems! Be careful not to toss everything down the sink. For maintenance friendly and clog free use, avoid tossing these items into your kitchen garbage disposal:
Grease, fat and oil
Raw eggs and egg shells
Pasta, rice, potatoes and other starchy foods
Bones
Pits, seeds and coffee grounds
Fibrous foods like celery, onion peels, lettuce, corn husks, asparagus etc.
If You Have Kitchen Garbage Disposal Problems, Call Hubb Plumbing
Call us today. As your Gwinnett County plumber, we'll keep your kitchen garbage disposal in tip-top shape. Just pick up the phone and give us a call!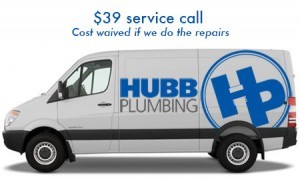 When the Plumbing Needs to Work the First Time