With a cold start to 2018, keeping the plumbing running has been a challenge. The cold winter weather not only takes a toll on your body, but also can cause damage to pipes as well. At Hubb Plumbing we want to help you avoid a disaster. Be prepared and follow these 2018 winter plumbing tips so you can avoid unnecessary plumbing repairs.
Be Alert to Frozen Pipes
When the temperature drops below freezing it's a good idea to let your faucets drip to keep water flowing and water pressure down. Frozen pipes are some of the most common problems during the winter months. At temperatures below freezing, water can start to freeze, increasing the water pressure in your pipes. Increased water pressure is what causes pipes to burst.
Cold Weather Leads to Clogged Drains, Too
While it is not uncommon to throw food down the kitchen sink, any grease from food, combined with the cold weather, can cause an unhealthy build-up of material in your drain pipe. This will eventually lead to limited water flow and clogged drains and pipes. If your drains are running slow, a quick fix is to pour very hot or boiling water down the drain to loosen up the clog.
For Serious Problems, We're Available When You Need Us!
Don't let Atlanta cold weather get you down. Contact Hubb Plumbing! Since 1987, Hubb Plumbing continues to be the plumber to call first in Snellville, Grayson, Loganville and Lawrenceville GA. Follow our 2018 winter plumbing tips and keep your home safe from freezing pipes and clogged drains!
Call Hubb Plumbing Today – 404-925-4675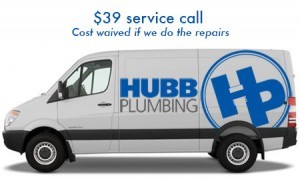 Follow These Winter Plumbing Tips, Snellville