With the lack of rain in metro Atlanta over the past few months, the topic of "saving water" has come up again. Reports of drought conditions are beginning to make the news. And accordingly, the conversation will turn to the topic of saving water.
Most of us would probably agree that saving water is good for the environment and good for our home finances. Water certainly isn't free. And with that in mind, this month we take a look at a nifty attachment that claims to reduce water use by 98%! That's a very bold claim! From TreeHugger.com:
---
This Plug-and-Play Faucet Attachment Reduces Water Use by 98%
The Altered:Nozzle turns tap water into a fine mist to radically reduce the amount of water needed for many common tasks.

A new entry into the water conservation market promises a 98% reduction in water use, by atomizing the water coming through it while enabling the water to do the same amount of work, yet with huge savings. Similar in concept to the Nebia showerhead, the Altered:Nozzle effectively optimizes the use of the water flowing out of the faucet instead of letting it just flood out over and past the task at hand, whether it's washing your hands or rinsing vegetables or doing the dishes.
We probably all know about the aerators that are installed on faucets, which have a dual purpose of reducing the amount of water flowing out of the faucet (due to being mixed with air), while also delivering a stream of water that's much less likely to splash out of the sink, but this new faucet accessory takes that to a whole new level by reducing water use by up to 98%.
The Altered:Nozzle, described as "the worlds most extreme water saving nozzle," attaches to any standard faucet and has two settings, the Mist mode, which is rated at 0.18 liters (.047 gallons) of water per minute, and the Super Saver mode, which is rated at 1.8 liter (.32 gallons) per minute. This dual mode allows for extremely frugal water use when doing water-intensive tasks (Mist mode), while also letting you switch over to a higher flow rate for other tasks (and yet reducing water flow by up to 85%).
---
Save Water with Hubb Plumbing, Too
Call Hubb – your qualified plumbing service professional. We're your best friend when it comes to helping you save water. We're well equipped to handle new faucets, drains, flushing, or any type of maintenance. We can install the latest water saving faucets or showerheads in your home!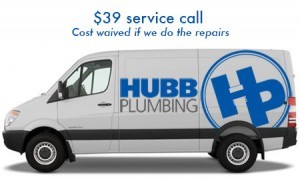 When the Plumbing Needs to Work the First Time